Clear skies needed for the sunrise
I don't often ask for clear skies, but on this morning it's exactly what I wanted in order to capture the sun rising over the mountains behind Lake Bled from this viewpoint. So when the forecast showed virtually zero cloud on this particular morning, I headed off to Lake Bled for a second hike in complete darkness to Ojstrica viewpoint to try and capture this image. To see how hiking this trail looks in daylight check out my video here:
I had been there two weeks before in a vain attempt to capture this, but that was sadly not to be. A drive though pouring rain and subsequently thick cloud and storms thwarted that attempt. I did, however, manage to another great shot of an entirely different kind. There was no sign of the sun, but moody clouds at dawn and a fortuitous crack in the clouds produced a great blue hour photo.
My morning drive this time was entirely different. It was clear and the full harvest moon was shining bright all the way. If only I could get that in my shot, I thought. Alas, it was setting and would set to the west and far out of my shot. Still, you can't always get what you want.
I arrived just after 5am. Sunrise would be at 6.40, but firstly I wanted, as always, to get there one hour before for the blue hour, plus it's a 10-minute walk from the car park to the lakeside, then another 20-minute hike in total darkness with a head torch to the viewpoint. Ojstrica is also a very popular place, even at this ungodly hour, for a sunrise view so I always aim to get there first to secure my spot before the crowds of tourists come. This morning I was surprised to see some flashlights in the distant darkness as I ascended. A group of Asian tourists were already on their way up, so I stepped up my pace and overtook them. Thank god I did, because they surrounded my tripod the moment they arrived.
It was clear I was going have no worries about seeing the sun rise over the mountains this morning. There wasn't a cloud in the sky. Because of this I chose a 16:9 letterbox format. The reason for this is that there was no real interest in the sky, and much of the foreground is just thick shrubbery, so this format cut out all of that and focused the composition on the most interesting parts. Because I had got there before the others I had been able to setup my tripod on the top of a rock to get a higher perspective too.
I put on a Lee Filters 3 stop hard grad filter to tone down the clear sky and bring out the pre-sunrise glow. An American photographer came soon after but thankfully he was able to setup next to me. While I like to get there first to secure my spot, I like to feel I'm not preventing other photographers from also doing their work, or other people from viewing this spectacle. It had got pretty crowded on this little rock by this time. More and more people had begun to arrive soon after. But thankfully only two of us were photographers with tripods so we both had enough room, and all others were dispersed around the area all with a clear view.
Slowly as sunrise approached, a few wisps of cloud began to form over the mountaintops. It wasn't much, but I was prepared to take whatever was on offer.
About 7am the sun crested the mountaintop. As it is now September the sun is moving southwards and currently rises over the Kamnik Alps. It rose just to the left of Kocna and Storzic mountains.
A few wisps of cloud starting to build over the mountaintops
Now call me fussy, although I prefer the word "perfectionist" I had hoped it would come up either over Kocna or, even better, in the crevice between Kocna and Storzic. And it will do, but for such accuracy I'd need to get up there almost every day in the next week or so.
Still, I came away a great shot, and many other great pre-sunrise shots. There is also another viewpoint of Lake Bled higher up called Mala Osojnica, but it's a longer hike than Ojstrica so tackling that in the darkness will require a much earlier start.
Hopefully I'll be able to have a go at that one sometime, weather permitting. And maybe I'll get back to Ojstrica some other clear day when the sun is closer to those two mountains.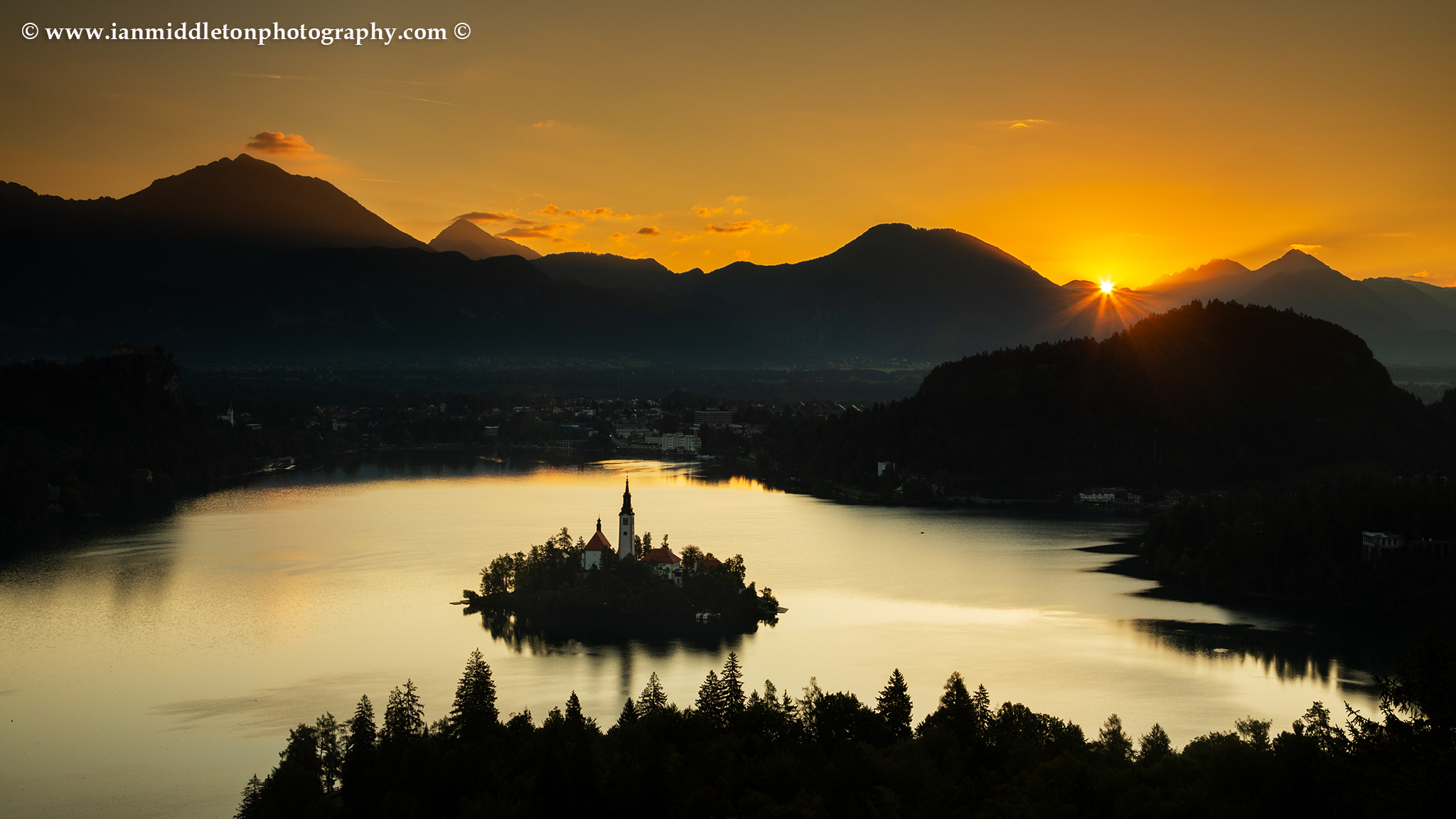 The sun rose right beside Kocna Mountain, and I at least got a little bit of cloud
Once the sun was up then any more shots of this wider scene became impossible. The clear skies made it far too bright. However, shortly after a hot air balloon appeared and drifted over the castle. This a common sight in the mornings, as a local tour company, among many, called 3Glav Adventures, run hot air balloon trips over the lake.
Needless to say I grabbed a couple of shots. It was a bit tricky given the harsh light coming from the sun meant a battle with lens flare. But not to be beaten, I got creative, took off my fleece and dangled it in front to try and block out the sun. It took some trial and error but in the end I eradicated the nasty lens flare from one shot, this first one. And in the second shot I managed to minimize it enough so that cloning it out was easy.
While I was happy with my sunrise photos, getting a different shot of Lake Bled from this viewpoint is not easy. But when the balloon came up I saw the potential for something different.
How the hike to Ojstrica looks in daylight