Lake Bled Viewpoint – Part 2
While pretty much any spot around Lake Bled offers amazing views to photograph, to get both the island church and the castle all backed by the majestic peaks of the Karavanke and Kamnik Alps, you need to head to the western side near to Zaka Campsite. But if you would like to photograph a truly amazing view of this fantasy-like scene from above, then you'll have to dig out your hiking shoes and trudge up into the hills with your tripod and camera pack. There are two trails, each ending at a viewpoint known as Mala Osojnica.
Mala Osojnica (20 or 40 mins)
There are two trails that will take you to this viewpoint: one goes through the forest and also takes you to another lookout called Ojstrica. Starting just beside the little beach at Zaka, just opposite the boat rental house, it takes about 40 minutes to get to the top. A signpost marks the start, which takes you up into the forest. Just follow the trail until it comes out onto a wider forest track. Turn right here and continue up.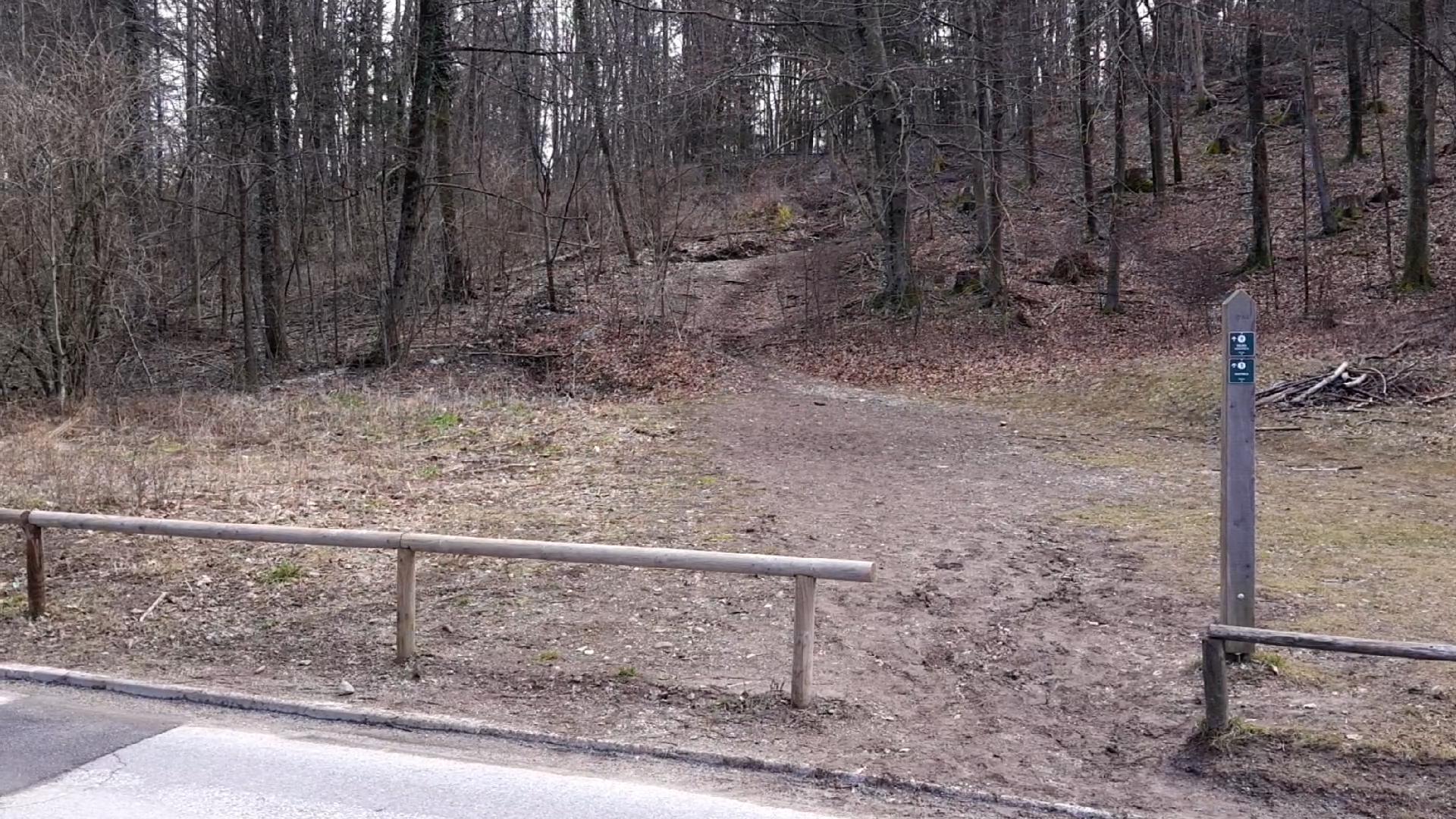 After about 10 minutes you'll come to another sign where you turn off right for Ojstrica, the sign pointing straight on to Velika Osojnica will also take you to Mala Osojnica. It's another 25 minutes from this sign. If you plan to visit both Ojstrica and Mala Osojnica then this is the best route to take. The route from here goes through the forest, so there is no view until you get to Mala Osojnica. It can also be tricky after a lot of rain because it follows a path that turns into a stream as water runs off the hillsides. After about 20 minutes you'll come to a clearing with a bench and another sign pointing you left for Mala Osojnica.
A shorter but steeper way
Alternatively, there is another trail starting from the lakeside a bit further around. From here it takes about 20 minutes. This trail is steeper and also narrower. On one section, the track is really narrow and a part of it has fallen away. There is a metal safety rope for you to hold on to.
The other tricky section is a steep flight of narrow metal steps. This can be especially treacherous when wet. So take care if you are going up or coming down in the dark. It's a good idea to hike this trail in daylight first if you can, so you know what to expect when you go in the dark with just a torch.
This is a much better way up and as it climbs the side of the hill, is more open and also offers great views of the lake pretty much all the way up. So you can get some good photos with the trees acting as a frame from sections of this trail too.
The word breathtaking just doesn't do it justice. This view is higher than Ojstrica and is just truly awe-inspiring. There is a protective fence here, and three benches, so you'll know when you've reached it.
It can feel a bit colder here because it's backed by the forest and is a bit of a wind trap, so be sure to have an extra layer or a windcheater with you. After you've sweated your way up that hill, the wind feels a lot colder, especially outside of summer.
There is plenty of space here for a tripod, or several tripods actually, so make sure you bring your tripod. You might think it's a hard task carrying it all the way, but trust me you'll regret it if you don't.
From here the island church, castle and Mount Stol, the highest peak in the Karavanke Alps, are in perfect alignment. You'll need a wide angle to get the full lake and surroundings in the frame. I would also suggest a telephoto lens to get some great close ups of the castle and the beautiful peak of Mount Stol. This mountain peak can often look amazing when the clouds swirl around it. I shoot with a 24-105mm on a full frame SLR, and I find it's enough for most shots. However, bring wider if you want. I also use a 100-400mm to get super close to the mountaintops, so think about that too.
A polariser is a must here, not only for the water but also to cut out any haze over the mountains. I took the following photo in winter at sunrise. The polariser has really brought out the reflections of the cloud and colour on the water.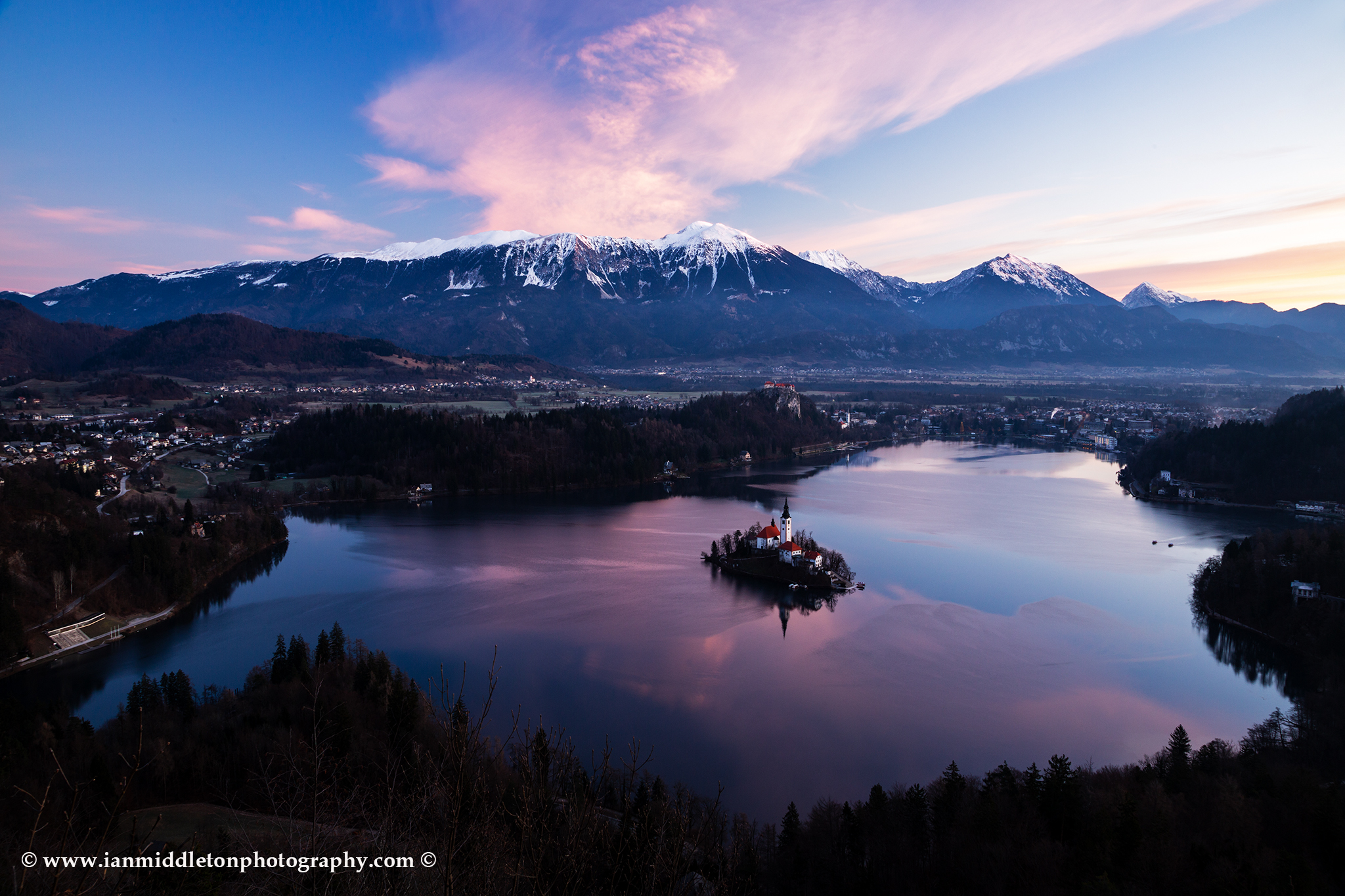 This is a great place for sunrise in winter. The sun rises off to the right, casting beautiful side light on the island and lighting the castle from the front. In high summer the sun rises over the mountains right behind. It's great for capturing the sun cresting the mountaintop, but after that the light will likely be too harsh unless there is some good cloud cover.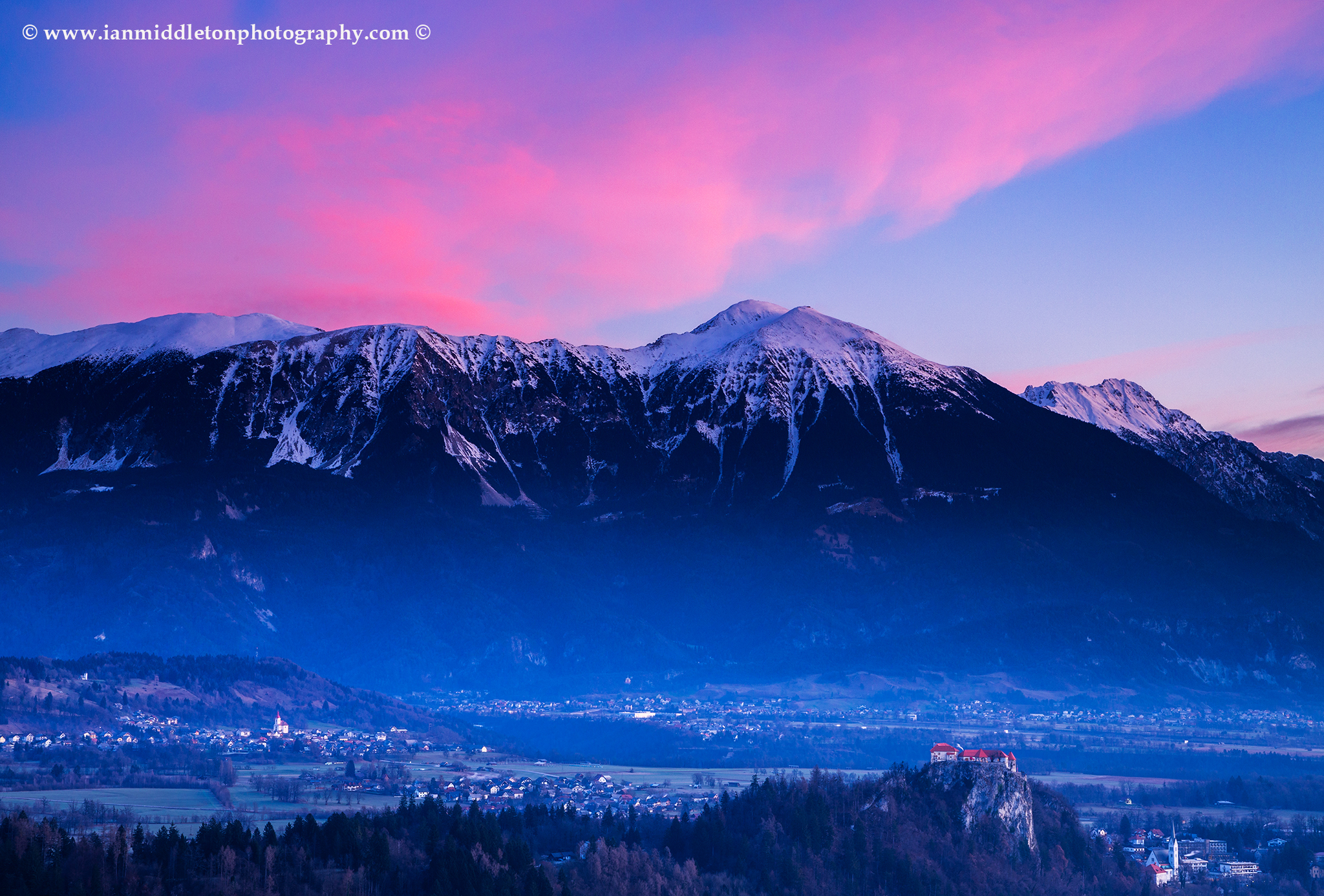 Summer is probably best for sunset because it goes down into the valley behind Zaka to the left of you and the light on the lake lasts longer and is a bit warmer. You'll also get the alpine glow on the Karavanke Alps. The rest of the year it goes down over the hills behind where you are standing.
However, in autumn, winter and early spring the sun is further to the right of you and in the afternoon it perfectly lights the front of the church, which is facing to the right of where you are standing, and the side of the island facing you. Coupled with some dramatic weather and clouds, this can produce some dramatic afternoon light over the scene.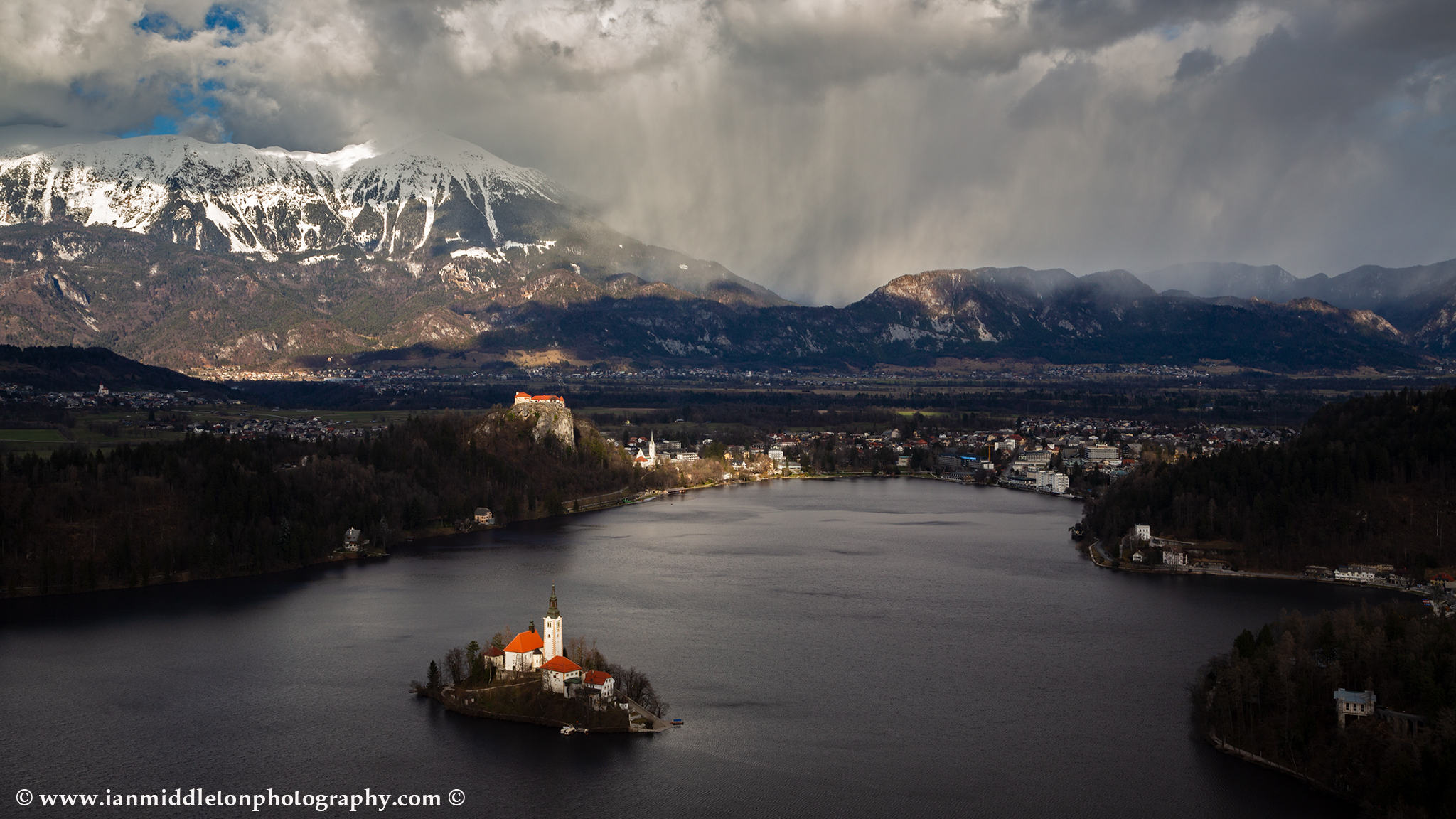 Sadly, from here the blue hour is a bit of a dud. This is because of the alignment of the church and clifftop castle. The castle and cliff-face are both lit and the reflection is partially cut off by the island from this spot. The church is also lit, so the two don't bled well together. You might be better to try and find a perspective just before you get to the Mala Osojnica viewpoint. Alternatively, the blue hour is better from Ojstrica.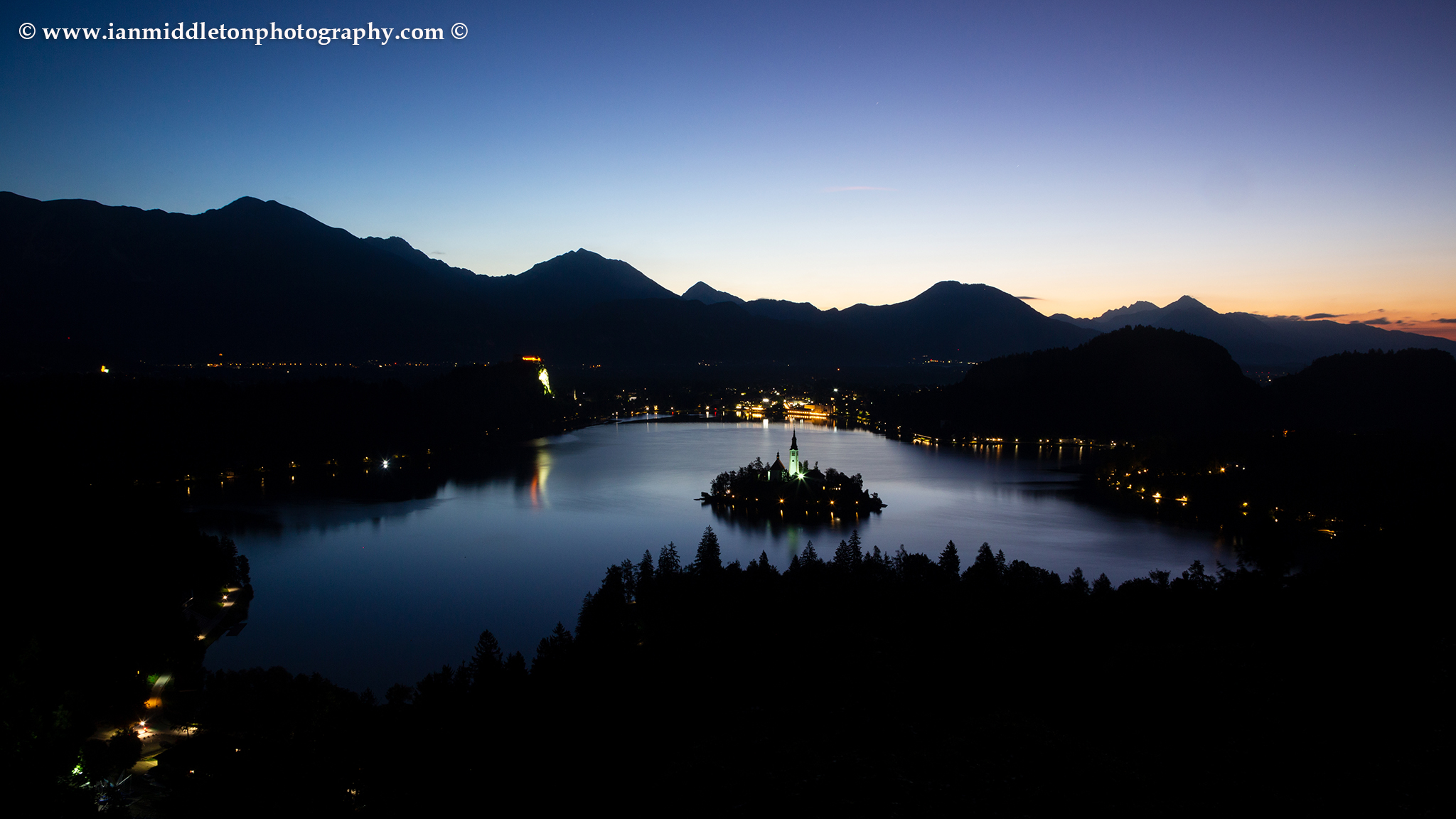 Don't neglect a portrait orientation
It's often easy to get carried away with a wide scene such as this and keep shooting everything in landscape orientation. However, as I said from here you get all three key elements in perfect alignment: island church, castle and Mount Stol. This also makes for a great vertical composition.
Tip: just remember to re-adjust your polariser if you move from a horizontal to vertical composition, as it changes the polarisation effect.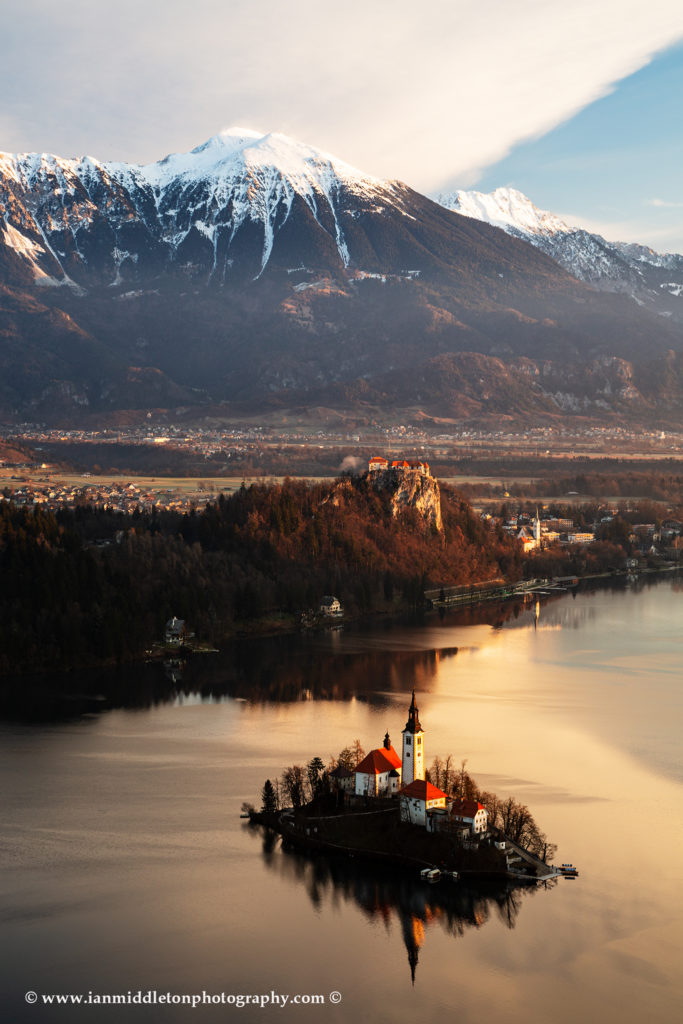 Visiting both Ojstrica and Mala Osojnica
If you come up in the morning for sunrise, and want to also visit Ojstrica, then take the trail behind you. This is where trail number 1 that leads into the forest comes out, and so you can follow the forest track back down. This will pass by the turning for Ojstrica, which is signposted. From there it is just a 5 minute hike up to Ojstrica.
Conversely, if you head up in the afternoon you can either take the trail number 1 to visit Ojstrica first, and continue on to Mala Osojnica. Alternatively, take trail number 2 to visit Mala Osojnica first and follow trail number 1 back down to Ojstrica.
Watch my video guide to how to get there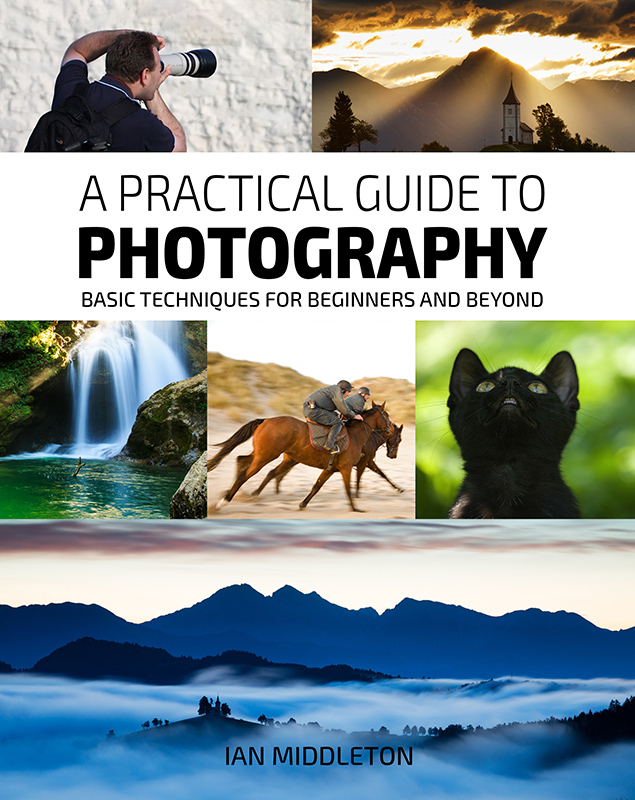 For a more comprehensive look at photography, check out my book, available to buy at Amazon.

Shedding light on all the photography basics in one book.

Want to know how to take better photos? Well, first you need to master the basic techniques. Whether you are a complete beginner or an intermediate looking to improve your photography, this book is packed with photography techniques, tips and advice for beginners and intermediates. All the camera functions and their effects explained.


Buy my book
Join me for a one or half day workshop at the fairytale setting of Lake Bled, a beautiful glacial lake surrounded by towering alpine mountains..
LEARN MORE
To see more of my photos from Lake Bled, visit my Lake Bled photo gallery.
VISIT GALLERY
All these articles are for free, but you are welcome to




---