For the best panoramic photos of Slovenia
On the southern side of Ljubljana you'll find the Ljubljana Marshes, a 160-sq km natural marshland comprising marshes and peat bogs. Much of this area is flat, so as you drive through you won't be able to miss the 384m- hill and its lone church glistening in the sunlight. This is the 16th Christian church dedicated to Saint Anne, mother of Mary and maternal grandmother of Jesus Christ.
This little hilltop provides amazing panoramic views of the whole of the Ljubljana Marshes, across to the city of Ljubljana, the Polhov Gradec Dolomites, the Kamnik Alps and the forested slopes of Krim Mountain. When it's clear enough, you can even see Mount Triglav; Slovenia's highest mountain peak.
To get there simply take the Ljubljana ring road and head south. On the southern side take exit 33 for Rudnik and head for Crna Vas. At the traffic lights go straight ahead and follow the long, straight road through Crna Vas to Podpec. The hill and church are visible from all directions as you drive towards Podpec.
Easiest access from Presereje village side
If you want to make a hiking trip up to this hill, then check out my other article here:
If you want a quicker and easier walk up, especially if you want to come for sunrise, then at the roundabout in Podpec take the first exit and head down this road until you come to a turning left for Preserje. Follow this road up until you come to another left turn at the top which will take you to a small car park here:
From this car park you can simply walk the forest road up to the church. It takes about 20 minutes and is very easy. It's a gravel road all the way so you could even drive up to a closer point, but I would advise you to walk. It's not that far. It's the best way to go especially if you are going up in the dark for sunrise, or even having to return after sunset.
Here you can watch a video of the walk:
From the church you get the most outstanding view all across the Ljubljana Marshes. It can get a bit windy up here during the day or at sunset as it's an exposed hill, so be sure to bring an extra layer with you, and some support for your tripod. Mornings are generally more still, and foggy through autumn to spring.
The best time to photograph here is at sunrise, especially from March to September when the sun rises in view. Further into winter it rises more to the south behind Krim, but still can produce great side lighting raking over the low lying morning mist.
Getting the perfect misty morning can be hit or miss here. Often there is too much mist and the entire hill is enshrouded, meaning the only thing you can see is the church itself. But when there is low lying mist over the marshes below, it can be spectacular.
Always a photo opportunity though
The views here are panoramic, and you can see right across to the city of Ljubljana and even see the Ljubljana Castle to the east. The majestic Kamnik Alps are clearly visible to the north on most days, as are the Polhov Gradec Dolomites to the west. When it's clear enough, you can even see Mount Triglav (Slovenia's highest peak).
From this church you will see numerous other churches across the Ljubljana Marshes. The most obvious will be off to the west, where there is another nice little old church on a hill called the Church of Saint Joseph. The visible church to the right is the Church of Saint Maria. The Church of Saint Lawrence provides foreground interest in the eastern view.
To the north there is a sea of churches, and if you are lucky enough you might capture them poking out of the mist.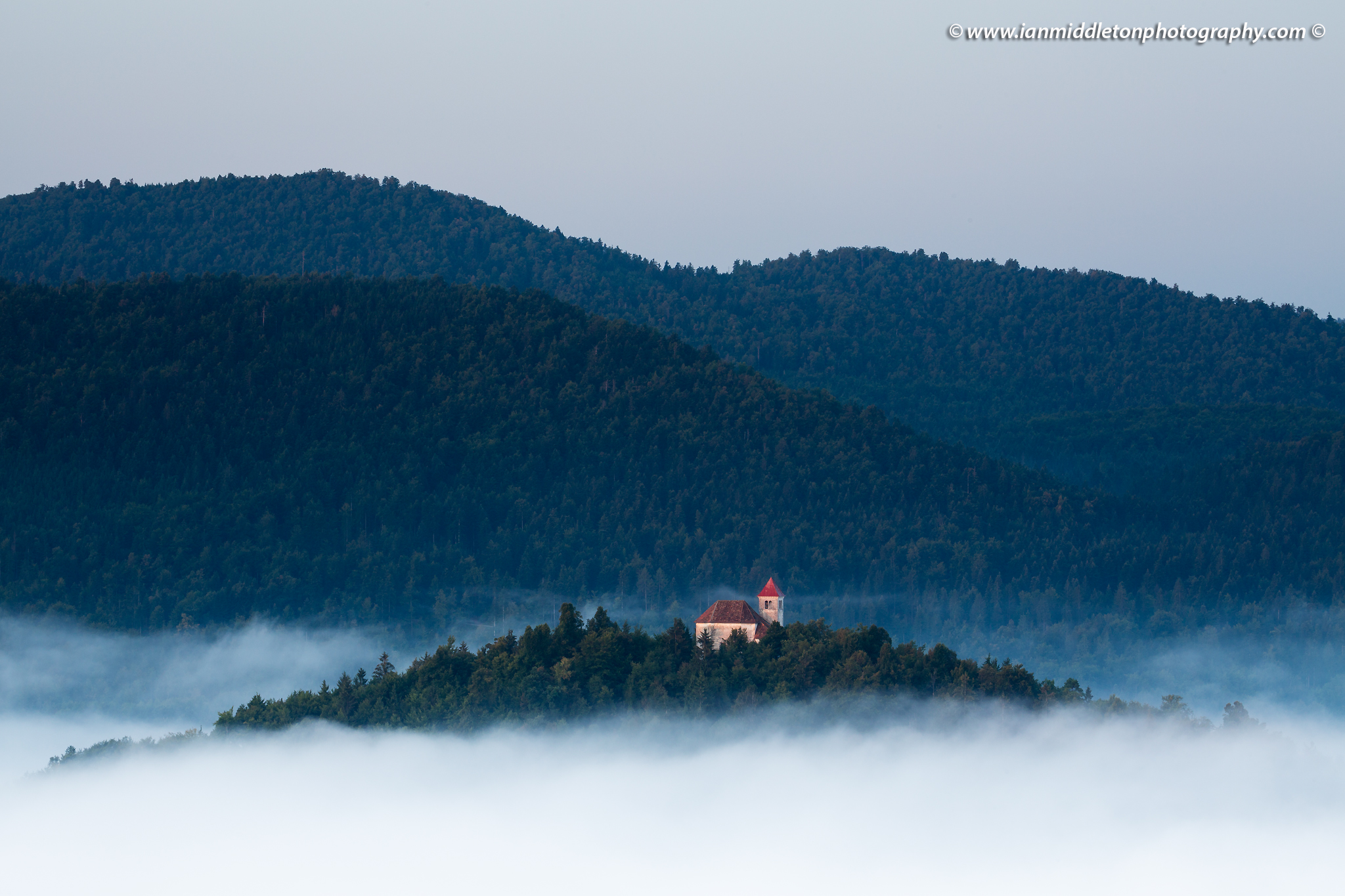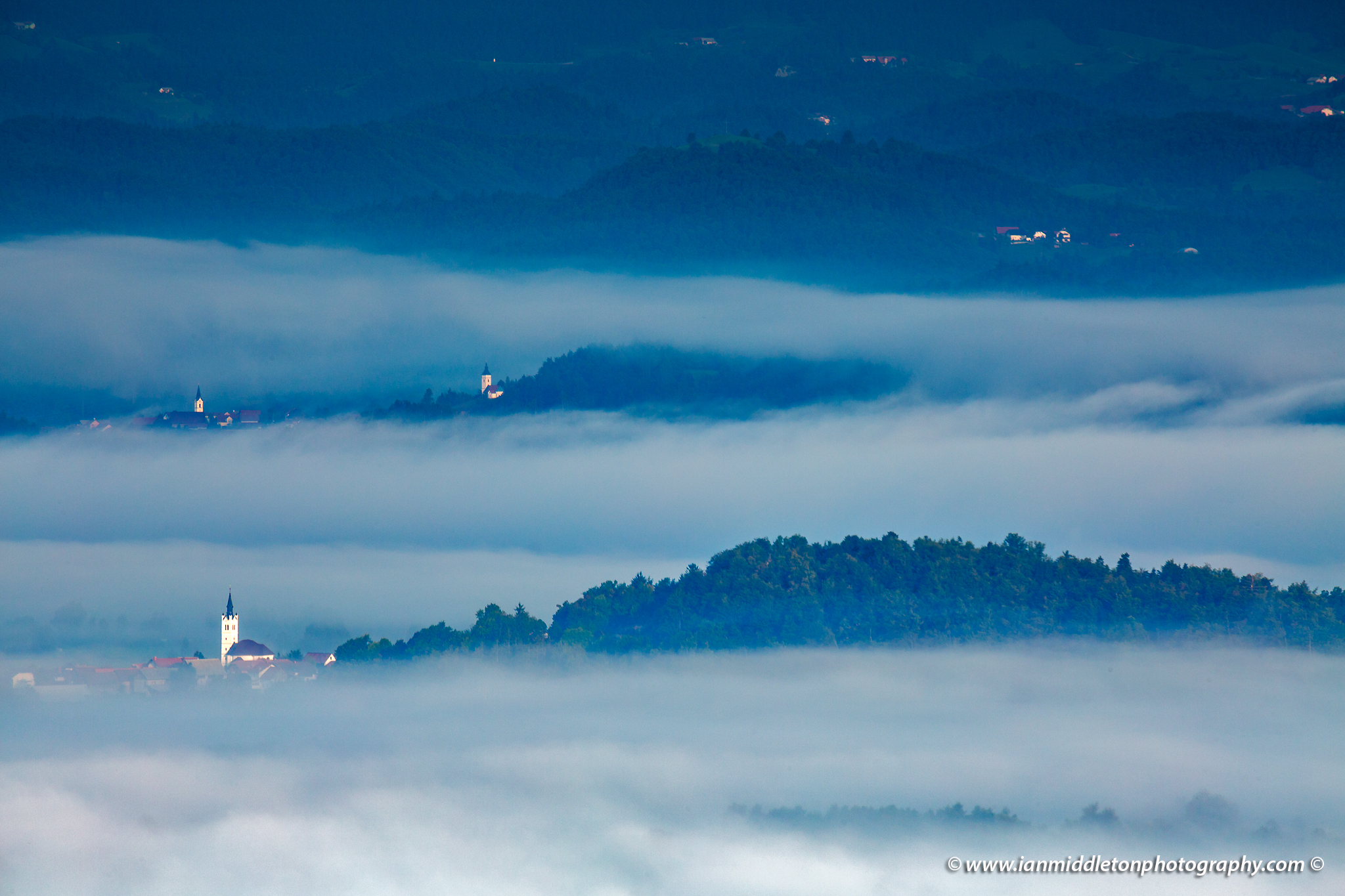 The sun sets over the Polhov Gradec Dolomites much of the year, but in winter moves further south. Sadly, it doesn't go far enough south to set behind the Church of Saint Joseph; at least not from the viewpoint at the top. But you can get it close to the Church of Saint Maria.
Sunset close to Mount Triglav
As I said earlier, if it's clear enough you can see Mount Triglav, Slovenia's highest mountain in the Julian Alps. During the summer solstice week the sun will set very close to this peak, so if you you can get there and you are lucky enough to get a clear enough view you can get a spectacular shot. Sadly, I haven't yet. But I'm still trying.
While a wide angle and standard lens are essential here for the panoramic views, there are many great features far in the distance that make the use of a telephoto lens also useful. Just be aware that because it can get quite windy here, photographing longer exposures on a large telephoto can be tricky. Bring a good sturdy tripod and something to act as a windbreak on your lens.
On a clear day you can get right up close to the mountains and isolate distant subjects such as this one below. The twin hilltop here is Smarna Gora, whose church is a popular hiking destination for many living in Ljubljana. From this viewpoint I was able to frame up this hill against the beautiful snowy peaks of the Kamnik Alps at sunset.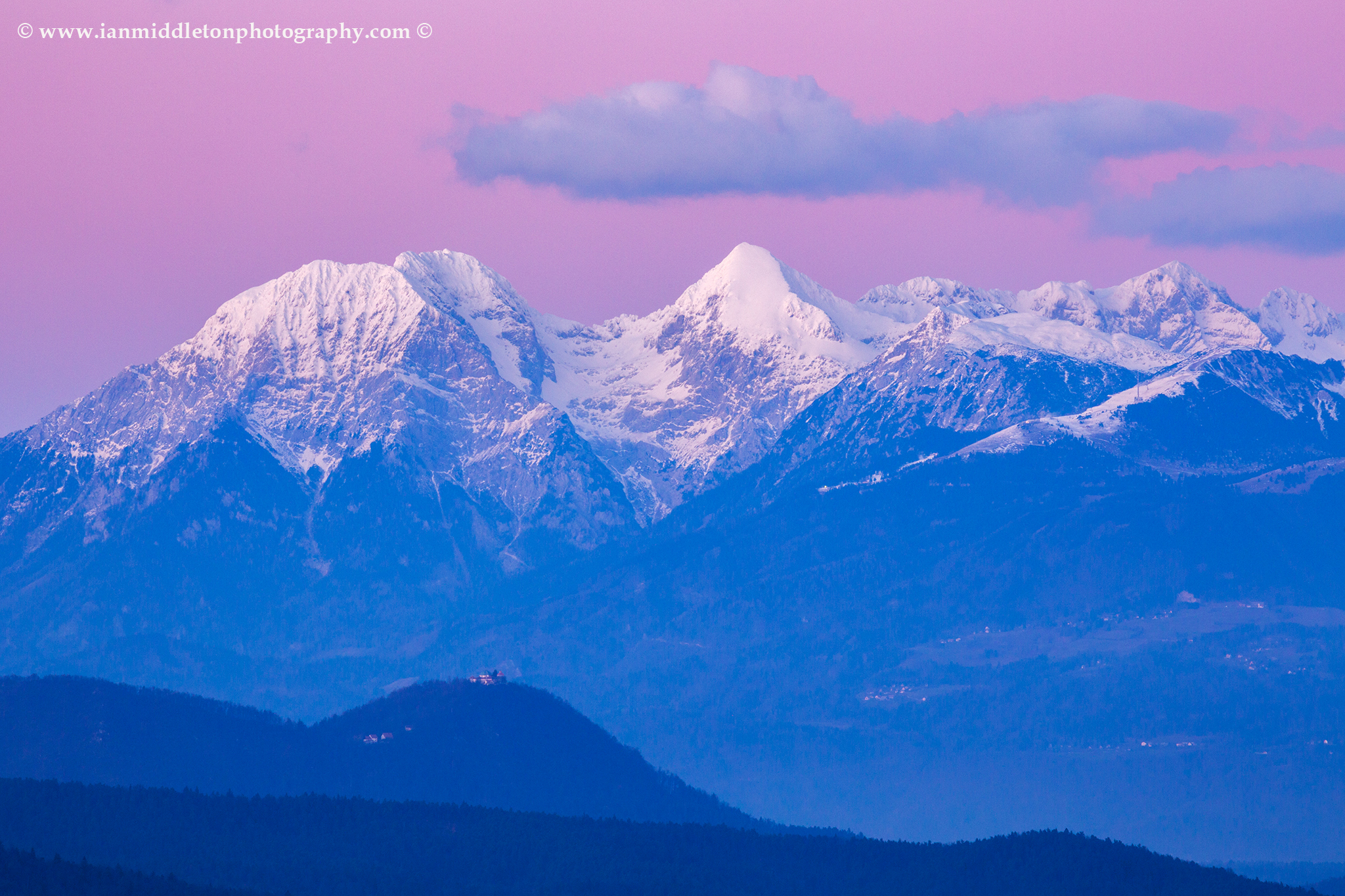 Check it out for yourself
So if you are in Ljubljana, be sure to check out this great photography location. There are many other great places to photograph on the Ljubljana Marshes, but for the best view across it, this is the place to go.
If you plan to go up for sunrise then be sure to have a good head torch for the short hike through the dark forest. Here is a good one:
The many moods of Saint Joseph Church
Watch my video of a morning shoot here.
Suggested accommodation in Ljubljana
Grand Hotel Union: Right in the heart of the city, a stone's throw from Preseren Square. This four star hotel has everything you need, including a business centre and underground parking.
B&B Hotel Park: The three star Hotel Park is also close to the centre. It is located in a historically protected building and was partially refurbished in 2017.
Best Western Hostel Slon: Ideally located on the main street, Slovenska Cesta, this four star hotel has a fitness centre, bar, garden and free WiFi, and is 600 metres from Ljubljana Castle and 90 metres from Ljubljana City Theatre.
Intercontinental: This five star hotel offers superb accommodation and also a great view from its rooftop cafe.
Ljubljana Resort Hotel and Camping: This resort lies on the outskirts of Ljubljana but just a 10 minute drive to the centre and also well connected by the public bus. As well as a hotel there is also a campsite and a Laguna pool complex with over 60 water effects, Ljubljana Resort is set in a 7-hectare big park.