Waiting for the light pays off
This is Saint Thomas Church view in Slovenia. I arrived here in anticipation of mist in the valley and the church being lit from the side as the early morning sun comes streaming through the valley. November, December and January are the best times to capture this scene as the sun has moved further south and as it rises it hits the church first and then slowly streams down the hillside, bathing it all in soft, warm light.
As I waited, this viewpoint, as is usual, quickly filled up with other photographers. Sadly though, a layer of low cloud in the southeast blocked the rising sun and while the mountains got lit, the church and hillside remained in the shade during that sweet moment.
As the rest of the photographers packed up and left, I decided to stick around a little longer in the hope that it might break through as the sun gets higher. I knew I wouldn't get the golden hour glow, and it was clear the mist was not going to appear. But still, this scene also looks great a little later in the morning when the higher sun brings out the lush green of the hillside, the lovely autumn colours surrounding it and blue of the sky. Golden hour is not always the best time to photograph this scene.
Mother Nature rewarded my patience, and as I stood there alone on the hill the sun broke through and scattered beautiful light and shadow across my composition.
It just goes to show that it's always worth waiting just that little bit longer.
This photo is of Saint Thomas Church view in Slovenia. It is near to Skofja Loka to the north of Ljubljana. It takes about 45 minutes to get to this viewpoint from both Ljubljana and Lake Bled, so both are good bases.
Suggested accommodation in Ljubljana
Grand Hotel Union: Right in the heart of the city, a stone's throw from Preseren Square. This four star hotel has everything you need, including a business centre and underground parking.
B&B Hotel Park: The three star Hotel Park is also close to the centre. It is located in a historically protected building and was partially refurbished in 2017.
Best Western Hostel Slon: Ideally located on the main street, Slovenska Cesta, this four star hotel has a fitness centre, bar, garden and free WiFi, and is 600 metres from Ljubljana Castle and 90 metres from Ljubljana City Theatre.
Intercontinental: This five star hotel offers superb accommodation and also a great view from its rooftop cafe.
Ljubljana Resort Hotel and Camping: This resort lies on the outskirts of Ljubljana but just a 10 minute drive to the centre and also well connected by the public bus. As well as a hotel there is also a campsite and a Laguna pool complex with over 60 water effects, Ljubljana Resort is set in a 7-hectare big park.
Equipment used in my photoshoots
These are links to photography equipment I use and what's in my bag and great places to buy them.
These are affiliate links so if you click and purchase I'll receive a small commission in return, but at no extra cost to you.
Great photography locations
Portlethen, a coastal village near Aberdeen in Scotland is another great photo location. Check out my photo blog for more info and photographs.
Read More »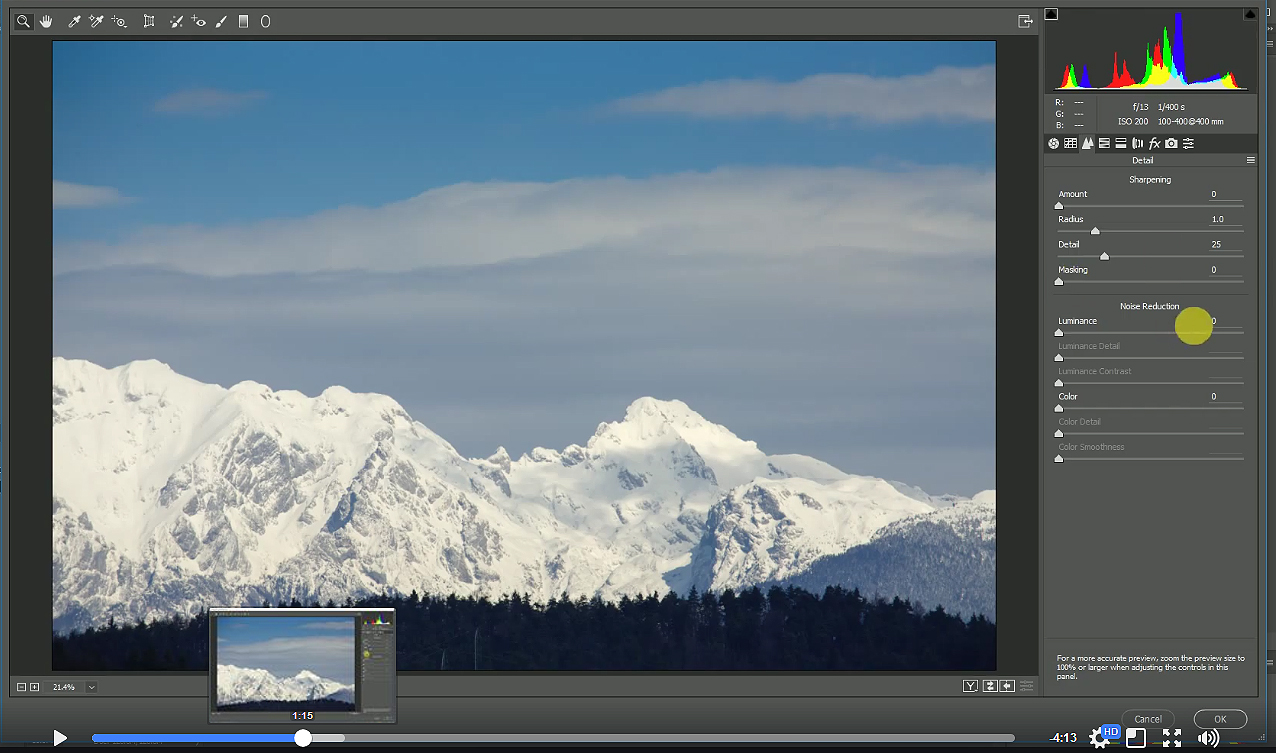 Photography Tips
In this tutorial I show you a great way to avoid sharpening your skies while sharpening your photo by using the masking tool in Adobe Camera RAW.
Read More »
Photography Tips
In this tutorial I show you how to use the histogram to avoid clipping your highlights and shadows, followed by a video tutorial.
Read More »
For a more comprehensive look at photography, check out my book, available to buy at Amazon.
Shedding light on all the photography basics in one book.
Want to know how to take better photos? Well, first you need to master the basic techniques. Whether you are a complete beginner or an intermediate looking to improve your photography, this book is packed with photography techniques, tips and advice for beginners and intermediates.
All the camera functions and their effects explained.